At the grave of the Bambino, Cemetery Of The Gate Of Heaven, June 19th, 1999
*Resident of East Brunswick, NJ.

*Former radio announcer.

*Hobbies: Computers, baseball and celebrity trivia, collecting Classic New York Islander hockey jerseys, politics, raising tropical fish, and cruising on my motorcycle whenever I get the chance.

*Favorite foods are Italian and Mexican.

*Favorite sports are Baseball and Hockey.

*Favorite teams: The New York Yankees and the New York Islanders.

*Favorite music: Jazz, Lynyrd Skynyrd, Bob Seger and almost all 70's music.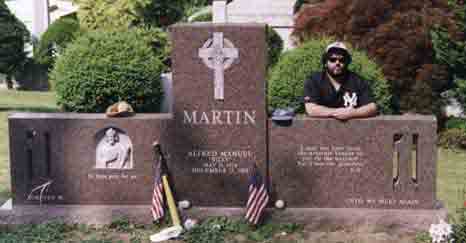 At The Grave Of Billy Martin, Cemetery Of The Gate Of Heaven, June 19th, 1999