Bad To The Bone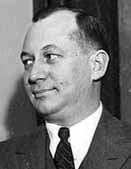 George Weiss

George Weiss was as extremely successful a baseball man as there has ever been in baseball history. While still attending Yale Weiss became involved with a semi-pro team in New Haven, CT. That team outdrew the local Eastern League nine. Weiss had his team play against local and major league stars. He even signed big-leaguers to game to game contracts. Ty Cobb once demanded $350 to play his first game with New Haven. Weiss, knowing the star power of Cobb, instead gave him $800. An investment that proved to be a wise move as the fans overflowed the stadium to see the "Georgia Peach " play.

From 1929-1960 he was part of a front office that engineered 19 pennants and 15 World Series Championships. Maybe more importantly, Yanks owner Jacob Ruppert loved him for the way he helped keep down payroll costs.

He was a cold and humorless cheap skate. A penny-pincher who believed in maximum profits at minimal cost, he was nasty and viscous when it came to contract talks with players, taking a cue from Ed Barrow. His main objective was to low-bridge and undercut any and all players at contract time.

Weiss was appointed head of the Bombers farm system. He built it into the envy of baseball. The Yankee farm system along with the Cardinals', was the blueprint for other major league franchises. Over all, over 20 minor league affiliates were part of the New York talent system. The most famous of these clubs were the Newark Bears of the International League. The Newark roster read like a who's who of future major league stars.

Weiss smartly traded and sold off players who were good but not in the Yankees plans. As farm director he answered to Ed Barrow. There was a strict business relationship between Barrow and Weiss. The two would never be friends but both shared the same work ethic and philosophy.
"Lonesome George", always made sure he had the best and brightest people working under him. His scouts, including Johnny Nee and Paul Krichell were top-notch. It was Weiss' scouts that advised him that an injured Joe DiMaggio would recover from a knee injury. Weiss then told Jake Ruppert that he should be signed by the Yankees. After Barrow retired, Weiss came into complete control, although he did have problems for a time with part-owner Larry MacPhail.

Weiss was an iron-fisted "hard-ass" at contract time. In an age where the players went agentless, the advantage for management was almost laughable. He once attempted to cut Mickey Mantles' pay the year after his Triple Crown season. He was also cold and calculating in his treatment of players as well. While most players had to work second jobs during the off-season, Weiss lived in comfortable settings, never having to worry about where his money was coming from or how he would put food on the table.

Maybe the worst case of how Weiss treated a player was what he did to Billy Martin. In Weiss' thinking, Billy Martin didn't fit the image of what a Yankee should be. When the infamous fight at the Copacabana Night Club happened, Weiss used it as an excuse to trade Billy, even though Billy was not involved. He traded him because he disliked him. Not even Casey Stengel, who was hired by Weiss in 1949, could stop his favorite player from the wrath of the "hard ass".

After the Yankees were upset in the 1960 World Series by the Pirates, both he and Stengel were forced out of the organization. Weiss surfaced in 1961 as president of the expansion Mets. Weiss hired his old manager Stengel to guide the expansion team.

Weiss retired in 1966 and was elected to the Hall of Fame by the Committee on Baseball Veterans in 1971. When he died on August 13, 1972, he left behind a legacy of championships and a winning tradition, and unfortunately, as far as the players were concerned, more enemies than friends.