Bad To The Bone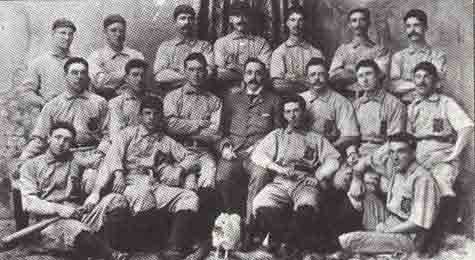 The Old Orioles
The original Baltimore Orioles were charter members of the American Association when it was founded in 1882. In it's ten years in the A.A. the club usually floundered in the league's basement, never finishing better than third.

The Orioles actually dropped out of the Association in 1890 after a dispute with league management. They played in the minor Atlantic Association for half a season and then rejoined the A.A. when the Brooklyn Gladiators folded in late August.

With the A.A. going out of business after the '91 season, the Orioles were absorbed by the NL. , Their their first season in the N.L. in 1892, was a complete disaster, they finished dead last under Bald Billy Barnie.

Ned Hanlon was hired to manage the club near the end of that season, and eventually, under his leadership, the Orioles became the pre-eminent baseball club of the 1890's.

The 1890's Orioles featured future Hall of Famers John McGraw, Hughie Jennings, Wilbert Robinson and Dan Brouthers along with outfielders Joe Kelly and Wee Willie Keeler.

The Orioles played in four straight Temple Cup World Series from 1894 to 1897. They were known for the "Old Oriole Spirit" which impelled men to ignore injuries and keep on playing. The Orioles specialized in relays and cutoffs and the hit and run.

Known as "the nastiest baseball team of all time", they never ever failed to break the rules. They would try everything short of murder to win games. When they played the Cleveland Spiders, another team known for rough-house tactics, all hell would often break loose

Bt the end of the 1899 season the National League decided to cut back to eight clubs. The Orioles manager Ned Hanlon bought into the Brooklyn Franchise, and as was common with the practice of syndicate baseball, transferred many of the "good" Baltimore players to the larger market Brooklyn franchise.

After a dismal 1899 season, a season which saw the Brooklyn franchise win the pennant, the Orioles were dropped from the league during the winter meetings of 1899-00.

Though the NL Orioles died a very untimely death, they left behind a legacy of winning, exciting baseball never quite seen since.