Bad To The Bone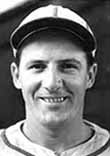 Joe Medwick

Joe Medwick was notorious not only for the way he played the game, but also for his terrible temper.
Born in Carteret, New Jersey, in 1911 to Hungarian immigrant parents, he was a high school star in baseball, basketball and football and was even offered a football scholarships to Notre Dame. He chose baseball over the gridiron and signed with the Cardinals.
After playing in the minor leagues for several seasons, Medwick came to stay with the Cardinals in 1932. As a member of the famed "Gas House Gang," he gained a reputation as a surly individual and a hard nosed, mean spirited player. It seems he would brawl more with his own teammates at times than with opposing pitchers. He was a magnificent hitter, batting .300 or better 14 times, winning the MVP and the Triple Crown in 1937. Because of his unusual waddle, he was nicknamed "Ducky Wucky" while playing in the minors. He personally preferred his other nickname of "Muscles."
Though a team man when it came to winning, he tended to be on the selfish side when it came to his own play. He was in a hotel lobby once when he noticed a newspaperman had scattered hairpins all over the lobby carpet. These hairpins, in a common superstition of the time, were looked upon as good luck charms by ballplayers and represented base hits, were actually meant for fellow Cards teammate Pepper Martin who was in a terrible slump. Medwick began to pick up the scattered metal when the newspaperman yelled to him that they were meant for Martin. Medwick immediately turned around and shouted back, "To hell with Martin, let him find his own hairpins."
The list of brawls with his own teammates runs a mile long. He once decked teammate Ed Heusser when the St. Louis pitcher censured him for failing to hustle on a fly ball. He cold-cocked pitcher Tex Carlton when he walked in front of Medwick one too many times while "Ducky" was being photographed. He flattened Rip Collins and once threatened to take out both Dean Brothers with a bat.
Medwick's wildest moment in baseball happened in Detroit in Game 7 of the '34 World Series. In the sixth inning Medwick tripled off the centerfield fence, sliding into third with spikes high. Whether he accidentally or deliberately spiked Tiger third baseman Marv Owen is a matter of conjecture. What is known is that while he was on the ground, Medwick began kicking at Owen, causing punches to be thrown. Umpire Bill Klem broke up the struggle, neither player being ejected. Medwick offered to shake hands with Owen but was refused.
In the bottom of the sixth Medwick jogged out to his position in left field and was met by a mortar barrage of fruit and bottles from the Detroit fans, already in a terrible mood because the Tigers were getting beat 9-0. Commissioner Landis summoned the umpiring crew, Medwick and Cards Manager, Frankie Frisch, to his box and decided to remove Medwick. The Cards won the game and the series but that incident had critics once again pointing fingers at the surly Medwick.
After five more seasons, the St. Louis Cardinals sent the 28-year-old Medwick to the Dodgers in a multiplayer deal on June 12, 1940. Cardinal management apparently had had enough of Medwick's poor demeanor. Six days after the trade, Medwick was beaned. On the morning of the beaning, Medwick, Dodger Manager Leo Durocher, and Cardinal pitcher Bob Bowman had exchanged words in the elevator of Manhattan's New Yorker Hotel. Bowman was to start for the Cardinals that day, and according to Durocher he shouted, "I'll take care of both of you guys! Wait and see!"
During the game, after the first three Dodgers hit line drives, Bowman hit Medwick in the temple with a fastball. Medwick was knocked out cold with a severe concussion. As Medwick was carried off the field, the angry Durocher was restrained from going after Bowman. While Durocher screamed bloody murder that Bowman had done it on purpose, the Dodger GM, Larry MacPhail, was standing in front of the visitors' dugout, challenging the entire Cardinals bench. Bowman had to be escorted off the field and back to his hotel under police guard. MacPhail tried to get Bowman banned for life. The Brooklyn DA's office probed the case, but no action was taken.
Many around baseball secretly felt that Medwick got just what he deserved! Although Medwick did come back that season and was able to hit .305, for the rest of his career, he was no longer the same hitter. He totaled 21 homers between '42 and '44. He retired in 1948 with a .324 career batting average and 1,383 RBI. When news of his retirement spread, one former teammate who wanted to remain nameless said, "When he dies, half the National League will go to his wake just to make sure that son-of-a-bitch is dead."
Joe did mellow in his later years after retirement and was a mainstay at many baseball events! Joe became a minor league batting instructor for St. Louis in 1966. Elected to the Hall of Fame in 1968 by the Veterans Committee, Joseph Michael Medwick died from a heart attack on March 21, 1975, at the age of 63.