Bad To The Bone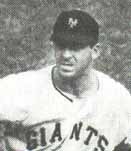 Sal Maglie
After a season with the Giants in 1945, Maglie spent 4 years in the Mexican League under the tutelage of curveball master Dolph Lugue. Maglie was one of the lesser-known players barred from organized baseball in 1946 by Commissioner Chandler for jumping to the Mexican League, but he became the most successful returnee when the suspension was lifted.

In 1950, he returned to the Giants, older, wiser and armed with a command of the edges of the plate which earned him a new nickname.

Although he had an ever-present "five o'clock shadow," Maglie was called "The Barber" for his practice of throwing close to (shaving) the batter's chin. "When I'm pitching," he explained, "I own the plate."

Sal was never better than in pressure situations he went 18-4 for the Giants and led the NL in winning percentage. His 23-6 mark the next year helped New York to the pennant won in a playoff on Bobby Thomson's home run.

Most casual baseball fans recall that epic home-run in 1951 capping a comeback from a 13 ½ game deficit in August. Only fanatics, however, are likely to recall that the ace of the Giant pitching staff that season was Sal Maglie.

A back ailment reduced Maglie's effectiveness in 1955. He was waived to Cleveland and eventually the Dodgers picked him up for $1,000 in mid-1956. He pitched magnificently down the stretch to help the Dodgers to a pennant, going 13-5 and pitching a no-hitter on September 25, in a key game against the Phillies.

He started game 5 of the Fall Classic that year against the Yankees, surrendering only 2 runs and 5 hits in an effort which would likely have produced victory on most days, but not that day.Don Larsen just happened to pitched the only perfect game in World Series history.

After his retirement, he served a pitching coach for the Red Sox and Seattle Pilots. His dedication and reputation made him a favorite at old-times games for years afterward.

Sal Maglie passed away on December 28th, 1992, at the age of 73.