Bad To The Bone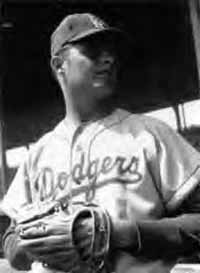 Don Drysdale
Dodger right-hander Don Drysdale combined a great arm with an ability to intimidate batters. Not only did the side-arming hurler knock down opposing batters, but he also plunked them with regularity. He led the National League in hit batsmen each year from 1958 through 1961. He also holds the NL career mark at 154. Frank Robinson once said, "He was mean enough to do it, and he did it continuously. You could count on him doing it. And when he did it, he just stood there on the mound and glared at you to let you know he meant it."

Drysdale had learned from a master of aggressive pitching, Sal "The Barber" Maglie, who had learned how to pitch aggressively from former Giant great Adopho Luque. Convinced of the value of keeping hitters off balance, Drysdale hung around the veteran Maglie in Brooklyn when he was just starting. "What being around Maglie did for me," Drysdale explained, was to confirm this idea in my mind and refine it. It was part of the game. I watched Maglie, I listened to Maglie, and it all sunk in. It just sort of clicked."

Drysdale has his own code of pitching ethics. "My own little rule was two for one. If one of my teammates got knocked down, then I knocked down two on the other team." Drysdale showed so much promise that the Dodgers signed him right out of high school in 1954. Drysdale was 5-5 in 99 innings in 1956 and moved into the rotation the next season, going 17-9 in the Dodgers' last year in Brooklyn. In 1959 he led the NL in strikeouts, and repeated in 1960 and 1962. He averaged 315 innings a season from 1962 through 1965.
He and Sandy Koufax staged a well-publicized joint holdout. Each wanted a $500,000 three-year contract. That year Koufax, with 382 strikeouts, and Drysdale, with 210, had set the all-time NL record for strikeouts by two teammates. Dodgers Vice President Buzzy Bavasi said, "You players are entitled to all you can get. That's the history of baseball. But I'm going to stick to our club's policy of one-year contracts." They both eventually signed one-year contracts, Koufax for $130,000, Drysdale for $105,000."

A torn rotator cuff ended his career in 1969. He eventually went into broadcasting and became a consummate play-by-play man. He became very adapt at telling stories of his old Dodger days and was greatly in demand for his wit and story telling abilities around the banquet circuit. His aggressive pitching demeanor was exactly the opposite of his off-field personality. He had many admirers in and out of baseball including Governor and then later on President Ronald Reagan. A great all around guy, he was liked by all who met him.

Drysdale was elected to the Hall of Fame in 1984, and the Dodgers retired his uniform No. 53 on July 1 of that year. Don Drysdale died from a heart attack while in Montreal to announce a game in 1993. He was only 56 years old.