Bad To The Bone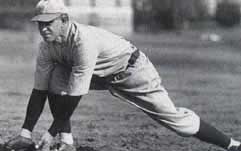 Hal Chase

If it were not for his unsavory reputation, Hal Chase might very well be in the Hall Of Fame. Loquacious amd charismatic, Chase was the star player on the early Yankee teams when they were known as the Highlanders.

Old-timers considered him to be the best-fielding first baseman ever, with Babe Ruth naming him as his all-time first baseman.

A good hitter and and even better fielder, he would routinely field bunts on the third base side of the pitchers mound.

It was said though that he had a cork-screw brain and almost from the time he entered the Major Leagues, he began throwing games. In the days of barely livable salaries, there was good money to be made by either betting on games or taking bribes to throw them.

It was especially easy for the talented Chase to help his team lose. A bad throw here, a misplayed grounder there. It was all in a days work.

As great as he was, he still led the American League first basemen in errors year after year. The holder of the American League mark for career errors by a first sacker with 285, its a wonder how his contemporaries did not sniff out problems sooner, especially since they thought he was so talented.

In 1910 manager George Stallings accused Chase of throwing games. Chase beat the charge and then demanded that the New York Owners relieve Stallings and hire him as manager. In his only full year as New York skipper, he took the Highlanders from from second place (88-63) to sixth (76-76).

When Frank Chance took over the helm, he eventually had Chase traded to the White Sox in 1913. His lackadaisical play became so blatant that fans and players alike would shout out, "whats the odds" at him before ball games. He spent time in the Federal League, going there of course, for a bigger contract.

When the FL folded, and he was signed by the Reds. In 1916, his first year back from the FL, he batted a career-high .339. When rumors circulated that Reds Manager Buck Herzog was about to be let go, many in the press felt that Chase would be the heir apparent! Unfortunately for "Prince Hal", it was Christy Mathewson who would get the job as Reds skipper.

In 1918, Matty had Chase suspended for throwing games. He was initially cleared of charges by the NL President. John McGraw of the Giants stepped in, ready to take on another "problem child". Chase did in fact play fairly well in the beginning of 1919 and was winning ball games for New York as late as June. but by August, things soured.

Chase was eventually barred for life from playing major league bestial but his name still surfaced again about a year later when he was implicated in the Black Sox scandal.

Chase continued to find work in the minor and semi-pro leagues and played into his fifties. He died in Colusa, California on May 18th, 1947 at the age of 64.