Bad To The Bone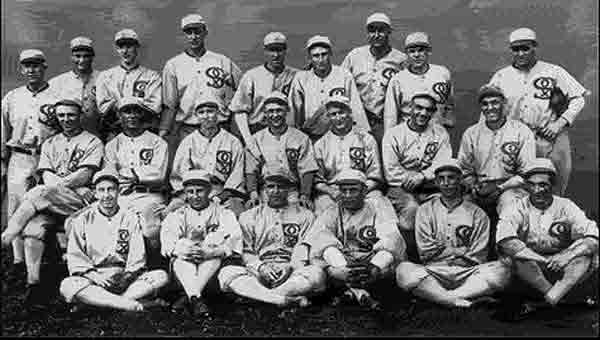 The Black Sox
From the years 1917-1919 the Chicago White Sox were by far the dominant team in baseball, and might well have gone on to become one of the great teams in history. Players did not change teams the way they do now, due to the reserve clause, binding a player in perpetuity to a team if the owner so wished. The lack of free agency helped produce a problem for many of the White Sox. Owner Charles Comiskey, despite having the most talented team, paid his players far below any other winning team.
Its a fact that the Sox originally received their nickname the "Black Sox", not because of the scandal, but because of the dirtiness of the uniforms. Comiskey's tried to save money by making the players pay for the cleaning of their own uniforms! The players rightfully protested this by not washing the uniforms for several weeks, hence the nickname.

Contract disputes and dissension never got into the press. Comiskey, a former player, brown nosed the press, wining and dining them. Commy was a friend to them in their eyes.

The White Sox, a talented team, were riddled with dissension. The players meal money was far less than the rest of the league. The only player making money was Eddie Collins, bought from the Athletics in 1915. Collins $14,500 salary was written into his contract when he came to Chicago, and was nearly double of anyone on the team. Collins, a Columbia man, was one of the few people that Comiskey could not screw with. Collins' friends on the team were catcher Ray Schalk, pitchers Red Faber and Dickie Kerr.

Collins' was sandwiched in the infield by shortstop Swede Risberg, and first baseman Chick Gandil, both of whom despised him. Third base was held down by defensive standout Buck Weaver. Happy Felsch covered center field and left field was patrolled by "Shoeless" Joe Jackson. Jackson was a .356 lifetime hitter and the only rookie ever to hit .400. The 1919 pitching staff was led by Red Faber who would miss the Series due to an ankle injury, Eddie Cicotte who won 29 games and Lefty Williams, who won 23 games in 1919.
In 1919, salaries were cut league-round by owners after the war had cut attendance in 1918. Even after extending the 1919 season, owners feared the worst. Attendance however, went up, while salaries remained the same. When Sox players found out that Comiskey would not even discuss salaries, they talked of striking, but Manager Kid Gleason talked them out of it, promising to persuade Comiskey otherwise. Cicotte was so furious that Gleason had to scratch him from a game.
In baseball's young history, there were numerous instances of betting. Gamblers had long been sociable with players, and from time to time, one of them would find a vulnerable player and perhaps just ask him a few questions about the state of the team; Who was ill for the game? Who was angry about no pay? They might find a player with something they could use to blackmail. Or even yet, threaten physical violence. The owners would know when something was wrong, but to investigate would publicize the fact that something might be crooked, and the game would crumble.
A noted practitioner of "the blown play" was Hal Chase. As far back as 1909, Chase had been suspected of throwing games. He was only one of a handful of players who tried for the easy money to supplement their income by penurious owners. Gandil met with gambler Joseph "Sport" Sullivan 3 weeks before the start of the World Series. Gandil told Sullivan that the Series could be fixed. He wanted $80,000 cash. He came to Sullivan because he did not know anyone else that could raise that type of cash. Sullivan thought it over and agreed.
Gandil then approached Cicotte in mid-August about throwing the Series knowing that he was bitter at Comiskey. Cicotte was earning only $6000 a year, despite the numbers he was putting up. After mulling it over for a while, Cicotte told Gandil he would do it for $10,000 cash before the Series. Cicotte was approaching 30 wins, and Comiskey had promised him $10,000 if he won 30 games. After Cicotte won his 29th win near the end of the season, Comiskey ordered Gleason to sit Cicotte so he would not win 30. With Cicotte recruited, Gandil went after others. He then signed up his friend Swede Risberg and utility infielder Fred McMullen. Gandil needed another pitcher, and convinced Lefty Williams to come aboard.
With the pitching and infield taken care of Gandil then went after the heart of the White Sox line-up, Weaver, Jackson and Felsch. On September 21st all 8 met in Gandil's room in the Ansonia Hotel in New York where they were playing the Yankees. Gandil recounted his meeting with Sullivan. They were to be paid before the first game. How the Series would be thrown would be determined by Sullivan. There wasn't much enthusiasm at this point from the players who were taking a wait and see attitude.
At the same time, Cicotte ran into an old baseball buddy, "Sleepy Bill" Burns, who asked Cicotte if the whispers about a fix were true. When Cicotte admitted it, Burns had Cicotte and Gandil meet with him and an ex-fighter associate named Billy Maharg. Gandil said they would throw the Series for $100,000. Neither of the gamblers could raise any money in Philadelphia, so they came back to New York to meet professional gambler Arnold Rothstein. Rothstein knew his way around baseball circles, as he was friends with John McGraw, whom he had a joint venture in several poolrooms in New York. On September 23rd, Maharg and Burns met Rothstein's associate, former boxer Abe Attell. They laid out the fix to Attell who then told Rothstein, who replied that he didn't think it would work.
Running out of time and patience, Burns then spoke to Hal Chase, who assured Burns the fix was in. Burns then went to speak with Rothstein face to face. Rothstein again reiterated that he thought it wouldn't work. After this meeting, everyone went back to their normal routine....except for Attell, who figured he would fake Rothstein's backing and push the fix himself. Attell met with Burns and told him that Rothstein had changed his mind, but didn't want his name involved.
Three days before the Series Burns put a deal together. Just two days earlier, Sport Sullivan had come to New York and told Rothstein of his meeting with Gandil. Sullivan had more credibility than Burns. Rothstein discussed the proposition with his associate Nat Evans, who objected to the number of people aware of the plans. Rothstein felt that he would be more likely to maintain a low profile with all the people involved. He then instructed Evans to go to Chicago with Sullivan to meet with the players.
By this time, the players were wary! Williams wanted out. Jackson now supposedly wanted $20,000. Evans went back to Rothstein, who gave the go ahead with $40,000, with another $40,000 to be put in a safe for when the fix became a reality. While all this was going on, Rothstein told his friends to bet on the Cincinnati Reds. Rothstein plunked down $270,000 himself. When Sullivan received the $40,000, he bet $30,000 of it. By this time the odds had dropped, as word was spreading about the fix. Sullivan gave Gandil the remaining $10,000, claiming one of his players must have leaked it. After a brief argument, Gandil took the money and gave it all to Cicotte, the opening Series pitcher.
Sportswriter Hugh Fullerton, who had been hearing rumors and watching the goings-on from his hotel room, (the same hotel that the players were at in in Cincinnati) wired his papers not to bet on the Series, noting that something was wrong. He asked former pitching great Christy Mathewson, who was covering the series for a national news service, to room with him. It turned out that Matty would be a key in finding out who the "fixers" in the series were. It should be noted that both Comiskey and Gleason were aware of the rumors but refused to believe them.
After Burns and Maharg came to Cincinnati, Attell told them that the money was all out on bets. Furious, Burns wondered about the players reaction to this news. That evening Attell spoke to the ballplayers. He cleverly told them he had the money, but that he was instructed to stagger the payments after each lost game. Everyone except Cicotte got ticked off. It was decided they would lose the first three games and win for Cicotte in the 4th. It should be noted that Joe Jackson was not any of these other meetings and that Buck Weaver never agreed to be part of any fix, although he would never "rat out" his teammates. It was further determined that Burns would bring the money to the hotel after each game.
The Series
Game 1 of the 1919 World Series started with Cicotte hitting a batter with his second pitch, signaling that the fix was on. Cicotte was battered in the fourth inning and was out of the game. Schalk became furious with him for ignoring his signals. All the while Matty was marking various plays in his scorecard that he felt were suspicious. With a consummate ballplayer like Matty in the press box observing every play, it was highly unlikely that the Sox could have gotten away with much. Gleason laced into Cicotte and Risberg in the hotel lobby after the game. When Burns went to the hotel to get the money from Attell, Attell refused claiming it was out on bets. When Gandil heard this, he became madder than a wet hornet, and questioned why Williams should throw game 2 if they weren't being paid? Burns agreed, and arranged for them to meet with Attell the next morning. Attell told the players the same thing, and that they would have it the following morning at the latest. It was now up to Williams to lose, but to do it carefully, so as not to make it too obvious.
In Game 2 Williams gave up only four hits, but walked three in the fourth inning as the Reds three runs, the Sox losing again, 4-2. After the game under the stands, Gleason tried to strangle Gandil, and Schalk had to be pulled off of Williams, who kept shaking off Schalk's signs, something he had never done during the season.
After the game, Comiskey went to see the National League President, John Heydler. He went to Heydler because the other two members were August Herrmann, owner of the Reds, and Ban Johnson, president of the American League, both despised Comiskey. When Heydler awoke Johnson, Johnson cried that Comiskey's suspicions were "...the yelp of a beaten cur".
When Burns went to Attell's room to collect the $40,000, there was money all around, but Attell and the others refused to give any to the players. After a brief meeting, they agreed to give $10,000 and told them to win the third game to play with the odds. Burns was stunned, but was told $10,000 or nothing. Burns went to Gandil with the new instructions. Although the players were outraged, they were not overly surprised. Burns assured them the money would come.
Game 3 had the "busher" Dickie Kerr pitching. He pitched a masterful 3-0 shut-out that only took 90 minutes. Burns lost all the money he had won in the first two games. Even though he was happy as hell, Attell claimed he lost and that it was Burns' fault. Burns tried to appease the players again, but they knew better. They told Burns they were through with him. Burns told Attell it was all off.
At this time Sullivan came back into the picture, meeting with Gandil again. Gandil said the whole thing was off. Sullivan promised to wire $20,000, and reminded him of the $40,000 in the safe. Gandil said $20,000 before the fourth game, and the same before the fifth. Sullivan was able to raise $20,000.
Game 4 was scoreless through four innings, when Cicotte threw one away. The next Reds batter singled. Jackson's throw had the runner beat at the plate, but Cicotte cut it off. The next Reds batter drove in that runner and it was quickly 2-0. Cicotte "settled down" shut them out the rest of the way, but 2-0 remained the final score. After the game Gandil passed out the money from that mornings meeting. McMullen and Weaver received none.
In Games 5, Williams pitched well but had another untypical bad inning, giving up 4 runs. The always reliable Hap Felsch misplayed one ball and dropped another.
In game 6, Dickie Kerr was on the mound again. 3 Sox errors led to 4 Cincinnati runs, but the Sox came back to win 5-4 in 10 innings. Buck Weaver and Chick Gandil were the hitting stars of the game for Chicago.
Game 7 brought a masterful performance form Eddie Cicotte who won 4-1. With the Series now at 4-3. The gamblers started getting nervous. Sullivan sent out one of his "goons" to see Lefty Williams, telling him it would be in his and his wife's best interests to lose the next game.
Game 8 saw Williams give up four runs in the first inning, throwing nothing but fast balls, and once again ticking off Schalk. Final score 10-5. The Series was over. After the series was over Comiskey told Gleason and Fullerton in his office "There are seven boys who will never play for me again!" Fullerton wrote as such in his column, although "Big Six" never mentioned any scandel in any of his columns.
Comiskey offered a $20,000 reward to anyone with information of a fix. In true "Old Roman" style, he later lowered the amount to $10,000. When Sullivan arrived in Gandil's room after the final game, he gave him the $40,000 from the safe. Risberg took $10,000 and gave $5,000 to McMullen. Of $80,000 received from the gamblers, Gandil took home $35,000, nearly 9 times more than his $4,000 for the season. Joe Jackson in the mean time went to see Comiskey with his $5,000 to see what he should do with it. Comiskey refused to see him, so Joe left for Georgia that night with Williams, where they would be spending the winter together.
Baseball publications that Fall and Winter chalked up the loss by the Sox to bad play, and that anyone talking of a fixed Series did not know what he was talking about, "During the 1920 season, despite the rumors of a fix, the Sox stayed in contention for the pennant. In September 1920, a Cook County grand jury looked into allegations of the Cubs throwing a three-game series to the Philadelphia Phillies. This probe widened to an inquiry of the 1919 Series.Cicotte was the first to spill the beans followed by Jackson. Gandil and Rothstein admitted nothing. On September 28th, the eight ballplayers, Attell, and several other gamblers were indicted for conspiring to defraud the public and injure the business of Charles Comiskey and the American. All were acquitted after Cicotte's and Jackson's transcripts disappeared.
The baseball owners decided to sack the National Commission, and appointed Judge Kennesaw Mountain Landis as commissioner. Landis had sided with the Major Leagues when the Federal League was fighting with them for ballplayers. The day after the eight were acquitted, Landis barred them from baseball for life stating, "...any player that throws a game, no player that entertains propositions or promises to throw a game, no player who sits in on a conference with a bunch of gamblers in which ways and means of throwing a game are discussed and does not promptly tell his club about it, will ever play professional baseball." That last part was unfairly directed at Buck Weaver, who was at the meetings but received no money, and had the Series of his life.
So who was to blame for the scandal? If there is anyone person responsible of all those involved, full blame can be placed on the shoulders of Charles Comiskey. If he had not been a penurious tightwad and given his players a decent living wage, there most likely never would have been a scandal. The Sox players were treated below the standards of other major league players of the time. Treated like slaves instead of employees, they were almost destined to have done what they did.
Charlie Comiskey died on October 26th, 1931 at the age of 72. On six different occasions, Buck Weaver asked for reinstatement and was turned down. The Illiterate South Carolinian, Joe Jackson, died from a heart attack on December 5th, 1951. His good friend Ty Cobb said, "Joe died of a broken heart, that's what he died of." One would have to agree with the Georgia Peach.