Bad To The Bone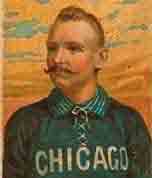 Cap Anson
He was a tremendous leader, but an overt racist.

Adrian Constantine "Cap'' Anson was the first man to draw the color line in the sand against blacks in baseball, on the diamond and in the dugout as player/manager of the Chicago White Stockings.

In 1883, Anson refused to play in an exhibition game at Toledo of the American Association because Toledo had a black catcher, Moses Fleetwood Walker, on its roster. Anson eventually backed down when threatened with forfeiture of the gate.

He again drew a line in the sand in 1887 to help ban black pitcher George Stovey when John M. Ward attempted to sign him for the New York Giants. A secret "gentleman's agreement" was made that banned black players, lasting until 1947.

Over the years, his White Stockings teams were packed with a plethora of drunks and rowdies, including King Kelly, Ned Williamson, Silver Flint, and Billy Sunday. The liquid libations and over-indulgences of his troops eventually got under his skin so badly that he asked Chicago owner Al Spalding to hire detectives to follow them around on their late-night activities.

Despite his bigotry, Anson was without question the greatest, and arguably the most consistent, player of the 19th century. He twice hit .400 or better and wound up with a lifetime average of .339 average. The first player to reach 3,000 hits, Anson led the Stockings to a total of 15 first division finishes, and five NL Championships.

In 20 years of managing, he had only three losing seasons.

So beloved was Anson by the Chicago fans that when he left the team, they re-named the team the "Orphans'' because they felt as if they had just lost a father. Nicknamed "Pop'' one can only wonder what his endearing influence on the game would have been if he was as tolerant as he was talented.

Voted into the Hall of Fame in 1939, Anson died of a heart attack at the age of 70 on April 14th, 1922.