Bad To The Bone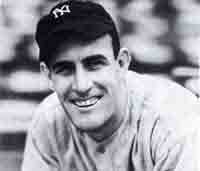 Johnny Allen

Hot-tempered, a heavy drinker and alley-cat mean, Johnny Allen was a big strong fast balling right hander who came up with the Yankees.

The mean spirited, hard-throwing Allen had shouting matches not only with team officials and umpires, but his own teammates.

The Lenoir, North Carolina native berated everyone! Lou Gehrig once described him as a miserable bastard. He was one of the few players that Joe McCarthy could not handle.

Though he was not known as a head hunter, he was known for shouting at opposing players and threw high and tight quite often.

He had a redeeming quality, he was a winner. He had a spectacular 17-4 rookie record with the Yankees in 1932, but a sore arm two years later, coupled with his angry holdouts caused him to be traded to the Indians in 1936.

Continuing his winning ways with the Tribe, he went 20-10 that year, and won his first 15 decisions in 1937 before dropping a final 1-0 heartbreaker to Detroit.

In 1938, he put together a string of 12 wins in a row before hurting his arm, and from then on was used as a spot starter and reliever. Pitching for Brooklyn in the 1941 WS, he held the Yankees scoreless in three relief appearances.

After his career was over he went into Real Estate and retired to Florida where he died from a heart ailment on March 29th, 1959, at the age of 53.